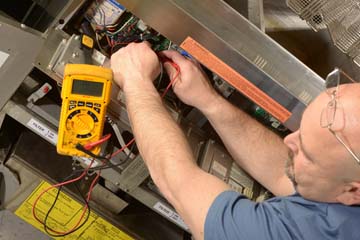 So much of the success of your operation depends on the food you serve.  Is there anything as bad as losing stock to faulty refrigeration.  Each breakdown requires refrigeration repairs and puts you at risk and with every hour out of commission can really cut into your profits and your day to day customer operations.
CCR Commercial knows just how devastating a fridge breakdown is to your operations.  That's why we make out technicians available 24hours a day, 7 days a week for repairs.  It only takes a quick call for one of our refrigeration engineers to be on site in jiffy.  And the great news is our tech's are spread out throughout the Perth region, meaning our response times are quick.
24/7 Emergency Refrigeration Repair Service in Perth
Your ice machines, freezers, cooler and other refrigerated equipment can sometimes breakdown at the most inconvenient times.  However, not matter whether your mid lunch rush or maxed out dinner service, you can count on the staff at CCR Commercial to be there.  Our technicians are on call 24 hours, 265 days a year.  That includes public holidays!  Now you'll never have to turn customers away because of a breakdown.  Rain or shine, we'll be there when you need us.
Refrigeration Solutions You Can Count On
Want to ensure you refrigeration equipment doesn't breakdown repeatedly?  When one of our highly qualified CCR technicians attends a repair, you can be assured of a quality job that will last.  We always show up on time and carry a large range of parts that will get the majority of jobs done straight away.
An if we cant fix the problem immediately, we can provide a estimate and quote for further repairs and in some cases, hire some temporary equipment from our second hand stocks.  We're very proud of our ability to do 95% of repairs straight away.  It's one reason why our customers keep coming back for all there refrigeration needs.
Refrigeration Repairs:
Don't Let Your Business Suffer From Breakdowns
CCR Commercial Refrigeration Perth has been providing fast, reliable services to businesses throughout the Perth metro area for 35+ years. Whenever you need a refrigeration repair, we'll have an experienced tradesperson  there in no time. Our technicians work quickly and always maintain a clean, safe workspace so you can carry on with your day. If your refrigeration equipment is putting your business in jeopardy, give Greg a call today on 0405 196 403!