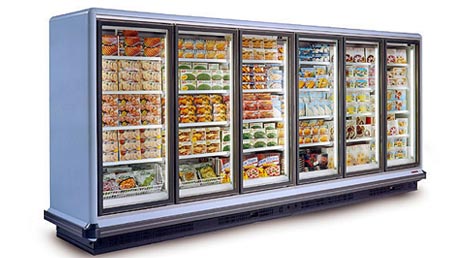 Did you know the operating temperature for Commercial Freezers is below -18°c?
CCR Commercial Refrigeration repair, design & install and perform servicing and maintenance for all types of freezer equipment including, display freezers, freezer rooms and much more.  With a large number of technicians throughout the Perth region, you call call us the "Go-to" guys for all freezer equipment.
Commercial Freezer Repairs
Why are we so special?  We provide a truly 24 hour emergency breakdown service.  Understanding the pressure of running a business, we understand the importance of immediate response.  Our refrigeration mechanics are the best in Perth and we always carry a range of spare parts to have you up and running in no time.  We only use quality electronic control units and compressors.  No cheap substitutes and full warranty means you can rest assured of a quality job that will last.
At CCR Commercial, we appreciate that many companies have serious requirements for their cold storage.  With such a huge investment in freezer equipment, you'll require a top notch company to help maintain it.  And with our rapid response times it our mission critical to keep you online at all times.
We also offer service and maintenance contracts for discerning companies who want to minimise downtime.  Talk to Greg about arranging a regular service with one of our expert refrigeration mechanics.
Display Freezers are a valuable asset for many retail businesses to dispay all types of frozen produce like meat, fish and ice creams.  Most modern display freezers are the upright or vertical type with triple glazed doors.  Many businesses still have the old style horizontal freezers.  Not matter which style of freezer you have, CCR Commercial have the expertise to repair or service all types of display freezers.
Ice cream freezers are a special type of freezer requiring precise settings.  The "scoop" style freezer requires the ice cream to maintained at about minus 14°c.  The temperature must be even over all tubs to as to ensure the ice cream is soft enough to scoop out in a reasonable manner for quick customer service.
For many small businesses the chest freezer is a real workhorse. They are a basic, cost effective freezer solution with very few moving parts.
Most upright freezers are found in retail shops or commercial kitchens.  They are usually self contained and are used a display freezers . Many supermarkets use them as they are easy to access frozen produce, are energy efficient having triple glazed glass doors.
Call Greg today on 0405 196 403 to chat about your commercial freezer requirements.